It's been a busy few months.  Here are a few paragraphs to summarise some projects over and above regular forensic physician and expert work.  Shortly after handing over the reigns of the Faculty of Forensic & Legal Medicine to Professor Carol Seymour, travelled to Antigua for the inaugural 1000 mile race from Antigua to Bermuda.  Heartbeat IV was 1st British yacht home and first amateur team.  Very proud that a small boat from the East coast of the UK can race with the best in the world.
The FFLM Annual Conference 2017 hosted by John Farnan and his team in Belfast was superb with a fantastic range of speakers eminent in their various fields including Sir Declan Morgan,  Lord Chief Justice of Northern Ireland (on the Impact of Cognitive Bias);  Will Anderson (on the new FFLM Photography in Custody and SARCs guidelines); Chief Constable George Hamilton of the Police Service of Northern Ireland (on the Police Journey in NI); the Forensic Science Regulator,  Dr Gillian Tully (on Issues or Healthcare Professionals);  Nicholas Moss,  Barrister (The Detention, Abuse and Death of Baha Mousa: lessons for the British Army [I provided evidence at the Public Inquiry]); Professor John Farnan (on Can Forensic Physicians Change History?  [Answer is Yes]); and Lord John Alderdice (on The Psychology of Political Violence and Paramilitarism).  These and all speakers showed the enormous relevance of forensic & legal medicine today.  It is to be  hoped that this relevance will assist in our bid to create a defined specialty of forensic & legal medicine. As ever great to catch up with Metropolitan Police FME colleagues and friends, with Aman Ranu and Siva Rammanohar shown below, alongside Shoreditch Police Station, now closed down (another bit of history gone), next to The Eagle pub (made famous by the nursery rhyme – Pop Goes The Weasel….. 'Up and down the City Road, in and out the Eagle':
On return from Antigua met with Alex Smith of Elsevier to catch up on the Journal of Forensic & Legal Medicine, which I am pleased to say has increased its Impact Factor this year to a modest 1.135.   Met with Dr Faye Kirkland, GP and BBC journalist to discuss a possible piece on deaths in police custody and the failure of the Home Office to publish the report of Dame Elish Angiolini into Deaths and Serious Incidents in Police Custody.  Was delighted to Chair an NHSE Health & Justice CRG  meeting at the University of Staffordshire.  A great venue with enthusiastic audience and more great speakers from all across the NHS involved with healthcare of  those in the criminal justice system.  Continued to work on a European research grant proposal led by Patrick Chariot, guided by the INSERM team.  A fantastic multinational and multiprofessional project on all aspects of safety and health related to justice systems, which deserves to succeed.
Back out to Bermuda where was lucky enough to see the final two weeks of the astonishing America's Cup which was won by Team Emirates New Zealand, seen below just before going out to clinch their victory against the USA.  For sailors,  the pinnacle of yacht racing.   Luckily I was able to work in the Trophy Room of the Royal Bermuda Yacht Club (not a bad place to write):
Was very honoured to be elected to Honorary Fellowship of FFLM parent College – the Roy#al College of Physicians.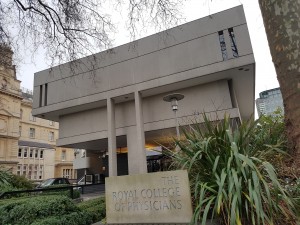 Delighted to speak on the Role of Forensic Physicians at the Medical Protection Society, at their new offices in The Shard.  Discussions with researcher working on a project related to the terrible Grenfell Tower disaster.  Progress made with old friend and colleague Gavin Jamieson,  publisher,  on a joint project looking at handwritten and handdrawn diaries of tours of Europe from ~ 100 years ago. A page example is shown below. A real historical witty and charming curio on a par with The Country Diary of an Edwardian Lady.
Project working with Miki Mistrati at Time Inc has been greenlit which should prove interesting as is reviewing the actions of a convicted murderer.   Attended the triennial International Association of Forensic Sciences meeting in Toronto: co-presented a day-long workshop on Clinical Forensic Medicine workshop with Eric Baccino,  Laurent Martrille and John Gall, and presented new research at the World Police Medical Officers session entitled 'Police Custodial Deaths: Independent Police Complaints Commission Reports vs Coronial Inquest Conclusions'.We hope to submit the final manuscript later this year.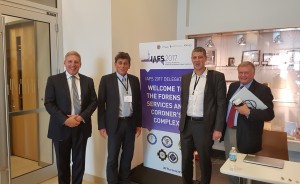 The IAFS 2017 organising team deserve huge congratulations for a superb event bringing together > 1500 forensic science and medicine specialists from around the world.  The President, Michael Pollanen and Chris Milroy are shown below.   The IAFS2020 will be in Sydney under the Presidency of Claude Roux.
John Gall who succeeded me as President of WPMO how now completed the re-launch of WPMO as the International Association of Clinical Forensic Medicine and we hope this will expand rapidly in the next few years.  John and I caught up with another former President,  Philip Beh from Hong Kong.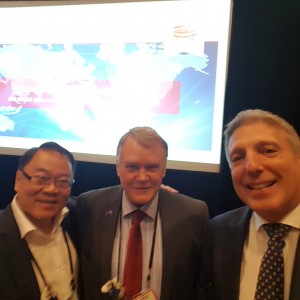 John and I are planning the third volume of Current Practice in Forensic Medicine.  Was also able to catch up with the Elsevier publishing team (also publishers of the Encyclopedia of Forensic & Legal Medicine)  including Liz Brown,  Alex Smith and Christian Schulz , and Mark Listewnik from CRC Press (who publish several of my books).  This week (4th September) has been one where health and care in detention settings has been highlighted in the broadcast media,  with criticism of government and organisations in connection with Immigration Removal Centres and police custody.  It is good that the media recognise the importance of these issues,  which sadly are (generally) neglected by all political parties who (generally) see little popular political advantage in supporting better (and thus more costly) services. However,  people detained by the state for whatever reason, deserve far better and safer conditions and access to healthcare than they get and it is shameful that politicians fail to act on these matters. The book co-edited by Duarte Nuno Vieira, Joe Beynon and myself – Monitoring Detention Custody, Torture and Ill-treatment – and published on September 13th goes to the heart of these matters.