Well, 2020 has been a bit different to previous years.  This blog hasn't been updated for most of that time, so I will summarise with a few notes and images of some of the key events in the last year or so.
In October 2019 talked on the 'Roles of the Forensic Physician in the UK' to the Yorkshire Society  of Coroners at the request of  their President,  Paul Marks – HM Senior Coroner for the East Riding of Yorkshire and Kingston-upon-Hull (and also friend and colleague since the London Hospital Medical College and also now President-Elect of the Faculty of Forensic & Legal Medicine).
In November 2019 I finished giving evidence in Mombasa in the trial of 4 police officers charged with the murder of Alexander Monson in 2012 in Diani Police Station, Kenya.  A verdict may be given sometime in 2021 as proceedings have been delayed in 2020.
Was delighted to attend my very talented cousin Eleanor Tallowin's art exhibition in Clerkenwell and buy one of her fantastic works. She specialises in encaustic art.
In November spoke at the Weaponised Toxin in Policing & Warfare Seminar at the  Churchill War Rooms, London, SW1 1AQ – the title being 'Calm Down! Non-lethal toxins used in global and UK law enforcement', a topic that has come to the fore in the last few months with concerns about the effects of irritants such as CS and nonivamide (delivered in both personal protection sprays and via munitions). The Churchill War Rooms are well worth a visit.  The Faculty of Forensic & Legal Medicine Irritant Spray guidance is currently being revised.
It was round about November that I began preparing lectures for the Royal College of Pathologists of Australasia (of which incidentally I am very proud to be a Founding Fellow of the Faculty of Clinical Forensic Medicine) which were due to be presented in March 2020 at the annual Pathology Update in Sydney. It wasn't until ~ February 20th that it was clear that this would not be able to go ahead as a live concern was due to be speaking on 'Deaths in short-term custody'; 'Medical implications of restraint techniques'; 'Honour crimes'; and 'Female Genital Mutilation'.
In mid-November travelled at the invitation of the National Crime Agency and the Foreign & Common Office, via the British Embassy in Manila, with Scenesafe and Forensic Healthcare Services to provide training on the principles of forensic recovery and collection of biological samples and to identify best practice. The training package was put together initially by Ben Wiseman of Scenesafe and Judy Payne-James of Forensic Healthcare Services. The visit was managed coordinated by David Cater (Regional Manager – Asia/Pacific) of the National Crime Agency with the support of Madeline Oliveros and Richard Bradley in Manila. With representatives of the Philippine National Police (PNP) and the National Bureau of Investigation (NBI), needs were  identified. In particular Police Brigadier General William Macavinta (Chief Women and Children Protection Centre), his staff, the British Embassy staff and the National Crime Agency provided input to the aims of the course.  Further discussions with others from Spark! (an NGO) and British Embassy team members refined the needs. Other NGOs  and the NBI were also represented.  This was extremely helpful in understanding the current strategies and goals of all stakeholders in the protection of women and children (but not excluding males and transgender) complainants and victims of sexual and physical assault. The need for accessible evidence recovery (particularly Early Evidence recovery) was clear and the means by which this could be done, via Womens' Desks and other local administrative routes was explained. Other important initiatives such as the #RespetoNaman campaign, confirmed the need for current training.  Twenty trainees attended with Richard Bradley of the NCA, participating and acting as an observer. The format included lectures and practical application of the use of Scenesafe evidential recovery kits.  Trainees used colleagues to practice use of these techniques.  Group discussion was encouraged and all trainees actively participated, sharing their own experiences in the fields in which they worked. Some very good collaborative links were established.
In late November travelled to Coimbra, Portugal for the European Council of Legal Medicine Board Meeting,  held at the same time as the Humanitarian Forensic Action Symposium.  One key element of the Agenda was to gain the support from EU colleagues that the UK would retain its representation in this vital organisation, and am delighted to say, that irrespective of the views of politicians, the UK remains a key and equal partner.
In December travelled to Antigua for a week's break and to check up on Heartbeat IV and was also in New York for my birthday.
Also visited Anglia Ruskin University to consider possibility of joint collaborations.
The last few weeks of 2019 were as usual with the routine events that are part and parcel of everyday working life including annual appraisal, immediate life support updates and multi-professional audit and update meetings (for both Forensic Medical Examiner and Medical Examiner roles).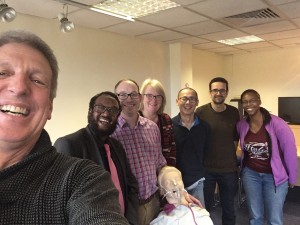 Courts continued to be busy and once again an attendance at a Coroner's Court at Newcastle Civic Centre giving evidence about another tragic and avoidable death in police custody
The final social event of the year was the NNUH Bereavement Team annual Christmas Dinner. A jolly time was had by all (didn't know would be the last for 2 years).
Teaching for the MSc in Forensic Medical Sciences started in January and my introductory lecture at the Robin Brook Centre at Barts was enlivened by a prize of the newly published 14th Edition of Simpson's Forensic Medicine which Richard Jones and I had been working on for a couple of years. The new edition seems to have been well-received.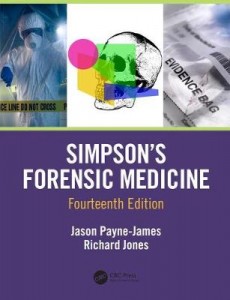 In early January flew to Mumbai with Sue Carney of Ethos Forensics to participate in filming a BBC2 documentary produced by Grain Media on the death of Jiah Khan, to examine the scene and the background to the case.  Was good to see Jiah's mother Rabya and stepfather Thomas.  The documentary will be broadcast as 3 episodes commencing on 11 January 2021.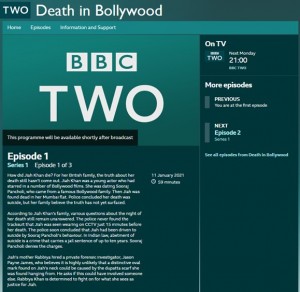 In mid-January met with Dale Mason from the General Register Office to discuss and review NNUH performance with regard to 5 day death registration targets, and ways in which they could be improved.
Also began to explore the role out of Medical Examiner Services to the community.  Very clear that there are a number of challenges but these will be addressable once the Medical Examiner Service is up to speed.
In late January had a brief trip to Brugge.  Didn't know then it would be the penultimate trip to Europe before Brexit.  Hotel Duke's Palace was superb. As was the restaurant whose name I have forgotten but is definitely approaching Michelin star status.
In late January had an NNUH Round Table on placement of NG tubes – interesting to note that same issues still present which I was researching at the Central Middlesex in the 1980s!
In January Frank Arnold, Cornelius Katona, John Chisholm and Juliet Cohen and myself had an editorial published in the British Medical Journal raising our concerns that release arrangements for immigration detainees are medically unsafe (in relation to their potential release without adequate medical support arrangements being made)
In mid February also saw the incredible Dear Evan Hansen.  Brilliant musical with a fantastic story and written by the same writers as those of Greatest Showman and La La Land.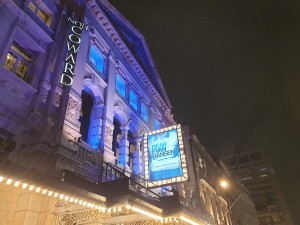 The ECLM team travelled to the European Parliament in mid February at the invitation of MEP  Professor  Luisa Regimenti at the European Parliament (Brussels) to discuss 'EU Recognition of Legal and Forensic Medicine as guardian of the rights of the most vulnerable persons and as a medical monospecialty'.
The Parliament hosted an extremely successful meeting and the ECLM issued the following communique following the event:
The European Council of Legal Medicine is the independent body of Medical Forensic Doctors founded in 1993 representing the 27 Members of the European Union and 7 further countries in the EEA or EU Candidate countries. As a non-political professional body without affiliations to any political grouping it welcomes this initiative within the European Parliament to advance and strengthen Legal and Forensic Medicine as a medical specialty across European borders to ensure health and justice for all vulnerable persons who come under the professional service or care of the forensic doctor. It does this by harmonising medical standards through the adoption and further development of best international practices and guidelines already established and published by the ECLM. These are focused on the independent role to the highest standards of the forensic doctor in Europe with the aim of guarding the rights of those most vulnerable in all areas where forensic practice applies and where it intersects with health, law and justice. The ECLM would welcome the establishment of a Permanent Working group of the European Parliament arising from this first meeting organised at the Parliament and involving Members of the European Parliament across all political groupings.
In February gave evidence for the Crown in the case of R v John Allison who was convicted of murder.
Medical Examiner training was undertaken at the Royal College of Pathologists using a mixture of presentations, round tables and discussions based on example cases. As a trainer I find these days as educational for me as for the delegates and the training, led by Suzy Lishman – Chair of the Medical Examiners Committee of the RCPath, is a very enjoyable day. Good to see (then) current (Jo Martin) and immediate-past (Suzy) Presidents of the RCPath of which I'm proud to be an RCPathME.
And then in the final days of February (and in what was becoming clear was a time when movement was going to be curtailed) we visited the superb No 6 – Paul Ainsworth's Restaurant in Padstow  and a meet up with Dr Peter Green and Professor Ian Wall and respective spouses at The Ritz for a catch up lunch.
Got to O2 to see Alfie Boe and Michael Ball on March 7th. A very jolly evening out and the last major event for some time.
As we then expected WHO confirmed a Coronavirus pandemic on March 11th 2020.  And so a life of Zoom and MS Teams meetings began.  This impacted on three of my work streams, police custodial medical care,  court work and hospital Medical Examiner.  The initial provision for PPE and control of infection was remarkably different in all three, presumably as all working under different protocols.  It was clear to many of us within police custody in Metropolitan Police Service stations that PPE was inadequately provided and thus we provided our own PPE. In order to explore this further a study was proposed (and provisionally approved by University of East Anglia) but the  Metropolitan Police concluded 'It might actually be confusing if different practices were identified or developed by different forces in different parts of the country and for this reason, I do not support your application to undertake such research at this time'. I believe this is the first study which I have proposed that the Metropolitan Police Service has declined to support.
Contrast between speed and ramping up of PPE and protection between hospital and police custody initially was enormous as awareness and understanding of the risks of contracting Covid and how to avoid it were very, very different. Police custody settings, in my opinion, had not properly been planned for, although after a few weeks the situation improved.
Had already anticipated assorted lectures and presentations may be cancelled or not allowed in person, so had already begun pre-recording lectures.  Also as I live in an area of the UK with poor wifi (thanks Sky) the likelihood of drop out during lectures was high, so planned to pre-record and then dial in for question/answer sessions.  Have continued this process and means that lectures/presentations can be seen by those who missed them.  This worked well for my MSc teaching at QMUL and subsequently for all other planned presentations.
A host of national and international meetings were (initially) postponed with some belief that reorganising for late 2020 or 2021 would be an option.  Unsurprisingly, with the pressures on clinicians and scientists this proved an option that would not work.  The triennial International Association of Forensic Sciences 2020 due to be in Sydney has, appropriately, been shifted to 2023.
Was asked to contribute to a documentary on the death of Alo Ngata, a New Zealander who died in police custody. I was asked to comment on aspects of restraint including spithoods and excited delirium syndrome.
By April Zoom, MS Teams and social distancing were beginning to be used and understood. Rapidly, remote consultations, meetings, teaching events adapted to the new means of communication and in my opinion were often considerably better for it.  Medical Examiner work was engaged to try and ensure that despite the possibility of increased, excess deaths that the Medical Examiner Service at NNUH was able to maintain its ability, working closely with the Bereavement Team to complete scrutiny and ensure that delays in process for the bereaved were minimised. The Coronavirus Act 2020 introduced a number of easements to the death process, which assisted, and which have probably hastened change that would have been inevitable irrespective of Covid.
As time passed into April and May systems began to get established and remote meetings became part and parcel of daily hospital life, and of the life of other committees on which I sit (eg the Scientific Advisory Committee on the Medical Implications of Less Lethal Weapons -SACMILL, the National Taser Stakeholder Advisory Group – NTSAG, the FLM Specialty Advisory Committee, European Council of Legal Medicine). Meetings (it seems to me) are far better attended and more efficient remotely. SACMILL produced its report on the TASER 7™ system in August 2020.
More remote teaching was being undertaken later in the year with various teaching to providers such as the Sherlock Institute of Forensic Sciences, India which promotes accessible education across forensic specialties.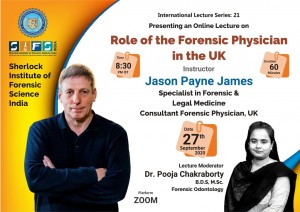 In May 2020 the Faculty of Forensic & Legal Medicine held it's first remote AGM.  This was remarkably successful and allows more participation from members and fellows overseas and around the country.
Was very pleased to be (as part of the Independent Forensic Expert Group of the International Rehabilitation Council for Torture) to be a cosignatory on the Statement  on Conversion Therapy, which (in part) states: 'The purpose of this medico-legal statement is to provide legal experts, adjudicators, health care professionals, and policy makers, among others, with an understanding of: 1) the lack of medical and scientific validity of conversion therapy; 2) the likely physical and psychological consequences of undergoing conversion therapy; and 3) whether, based on these effects, conversion therapy constitutes cruel, inhuman, or degrading treatment or torture when individuals are subjected to it forcibly2 or without their consent. This medico-legal statement also addresses the responsibility of states in regulating this practice, the ethical implications of offering or performing it, and the role that health professionals and medical and mental health organisations should play with regards to this practice.'
Research projects have continued with some success with currently Freedom of Information studies being done on the delivery of healthcare services in police custody and also into complaints (and outcomes) against healthcare professionals working in police custody.  These are follow-ups to previous studies on healthcare in police custody and complaints against healthcare professionals which exposed huge variability in the documentation and willingness to provide information.  One thing the pandemic has done is to enable people to justify delays in responding, although personal experience is that it is a particularly convenient excuse.
Having published the 14th Edition of Simpson's Forensic Medicine in December 2019 it was intended that the 3rd volume of Current Practice in Forensic Medicine co-edited with John Gall would be available for the IAFS 2020.  However many contributors are in the frontline of the science and medicine of Covid so it is now nearing production and should be completed in Q1 of 2021/2022.
It was great to at last receive Kim Collins' and Roger Byard's 'Geriatric Forensic Medicine and Pathology' to which I contributed a chapter of 'Fatal and Non-Fatal Accidents' and to received the 6th Edition of the Oxford Textbook of Medicine to which I contributed (jointly with Paul Marks, Ralph Bouhaidar and Steven Karch) on 'Forensic & Legal Medicine'.
Two additional exciting new book projects are now underway – The Medical Examiner System in England and Wales which I'm co-editing with Suzy Lishman and Forensic & Legal Medicine: Clinical & Pathological Aspects which I'm co-editing with Roger Byard.  The former is aiming for publication in Q2 2021/22 and the latter Q1 2022/2023.  Much of this timing will be dependent on the pandemic I suspect.
In June myself and Peter Learmouth (scriptwriter and friend of 30 years who had caught up when I was teaching in the Philippines in November 2019) embarked on a longheld wish of mine to develop a script based on a book, which I believe would make a great film.  Tiny steps have been made – but that dream remains alive for now.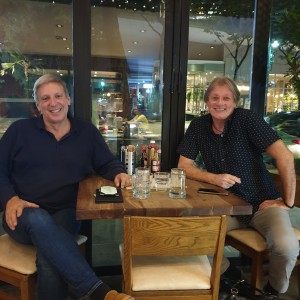 Although the Coronavirus Act enabled Medical Examiner Services to be suspended , as Lead Medical Examiner at NNUH my view was this was a retrograde step and throughout the year with the support of many and the recruitment of more Medical Examiners and (at last) Medical Examiner Officers, the latter of whom are key to a successful Medical Examiner Service.  We had a successful recruitment in  May of Medical Examiners (all part-time, from palliative care, vascular surgery, and GP backgrounds) and they started work in the Autumn. Most importantly two Medical Examiner Officers commenced in June 2020 – and this has transformed our service. One from a strong nursing background and one from bereavement management have shown how complementary high level skills can produce a service of excellence allowing 100% scrutiny of adult deaths.  The development of the Regional Medical Examiner Teams has helped in determining how far ahead (or behind) your own service is.  And once again this is all done remotely.
By June it was becoming possible to visit prison establishments again and complete assessments (for example for fitness to sentence, fitness for trial) but some had to be completed remotely – a couple of these were done by me from the VT facilities at the Central Criminal Court.
In June was an invitee to an event organised by the OSCE Office for Democratic Institutions and Human Rights (ODIHR) and the Polish Commissioner for Human Rights, with support from Omega Research Foundation and Exeter University on 'The Use of Taser in the Polish prison system'. This was a to assist the Polish OmbudsmanInstitution (Office of the Commissioner for Human Rights) and other relevant stakeholders to better understand the risks associated with the use ofelectric shock weapons ("Taser") in prisons and to assist in the efforts to formulate recommendations to the Polish authorities to address the potential human rights implications of the use of such weapons in prisons.
In July created two lectures for the Faculty of Forensic & Legal Medicine, one on completing a Medical Certificate of Cause of Death and one on the England and Wales Medical Examiner System.
In July I attended my first court as a defence expert for several months – at Highbury Corner Magistrates Court in a sexual offence case involving a juvenile – the original allegation dated from 2016. Cleanliness was abysmal but HMCTS staff were extremely helpful under adverse circumstances.  The defendant was acquitted.
The development of new forms of entertainment during Covid restrictions has been phenomenal.  Attended a drive-in movie in Marlow (Drive and Dine) which was a great success and one which we'll see more of. Films was 'Knives Out' and organised by Pub in the Park.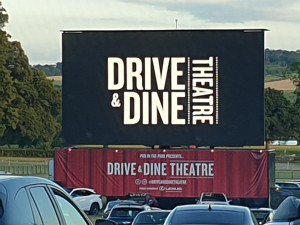 In August attended two restaurants (in Plymouth) subject to Covid restrictions. One very well organised (distancing, masks, wipe down etc) one not. Surprising mixed messages.  Also managed to visit Blakeney and North Norfolk for a few days. Recommend Rocky Bottoms at West Runton.
Expert workload pretty much maintained over the course of the year but court attendances hugely diminished with court listings being pretty shambolic and repeatedly dewarned.  Absolutely abysmal for defendants and complainants many of whom are waiting years for resolution. Forensic Healthcare Services team have predominantly homeworked for entire pandemic – maintaining efficiency and supporting expert witnesses and instructing agencies (lawyers, police, CPS) without furloughing, unlike many.
Contributed to a future podcast miniseries by Innerspeak on the  death of Soleiman Faqiri in Canada, a young man with diagnosed schizophrenia who died in his solitary confinement jail cell while being restrained by several correctional officers in 2016. The series will examine the details of his death while also exploring larger themes such as mental health and incarceration, schizophrenia, and the gaps of the justice system in Canada. Once again issues relate to possible excited delirium,  the use of CO pepper spray and spit hoods, and positional asphyxiation with in-custody restraint. Broadcast date is as yet unknown but will be some time in 2021.
Participated in October with Romesh Ranganathan and Dr Julia Smith for a future programme on BBC2 by Rumpus Media investigating  suspicions around Jimmy Hendrix's death.  Filming done at Haringey Mortuary under Covid safe conditions.  Unsure when documentary will be broadcast.
Very pleased to lecture (albeit remotely) to the University of Hull Forensic Science Society at the invitation of President, India Fradgley.  Talked about the role and relationship of forensic and legal medicine to other forensic disciplines.
Gave evidence via VT from the Old Bailey to Naas Courthouse in Ireland on a family matter regarding non-accidental injury.
Live trial in Reading on behalf of Crown – defendant found guilty of grievous bodily harm with intent and perverting the course of justice.
In November some remote  RCPath Medical Examiners training via Zoo, bringing the total number of MEs in England and Wales to around 900. Not a traditional way of training but by all accounts a big success and enjoyed by all who attended – over 100 participants including the trainers!  This is likely to be the mode of training for some time.
Zoom meeting to discuss 3rd Edition of the Encyclopaedia of Forensic & Legal Medicine – probably two years away.
Gradually hospital workload is building up again as a result of (in my opinion) too slow, too late, and inadequate guidance from government which is again putting huge strain on all sectors in which I work. I suspect the worst is yet to come but would be happy to be proved wrong.
Attended a Covid-secure Newport Crown Court in December on behalf of the Crown for the trial of Madog Rowlands, charged with murder.  He was convicted.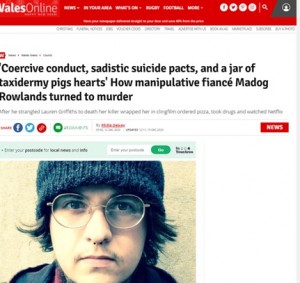 Final bit of good news is the release from prison of one of the detainees from the case from  Tbilisi in Georgia which Sue Carney of Ethos Forensics and I worked on as a team placed by Forensic Healthcare Services, to jointly review evidence in a complex double murder trial. This was undoubtedly the right and just decision but again demonstrated the complexities when forensic evidence, law and politics mix.
S0 2020 is over, with a little bit of flooding in Norfolk, general good humour from the Bereavement and Medical Examiner with which I work and wishes for a better 2021  for everyone.  I am very lucky that my workload remains interesting and fairly intense.  Hope that this briefish summary gives an idea of what's been happening.  A break would be nice. It's been an interesting year, let's hope 2021 is less interesting.  New Year's Greetings to all.